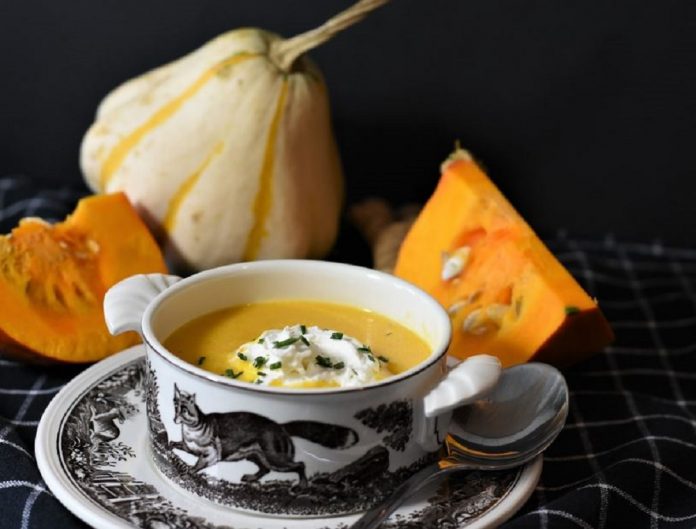 Pumpkin is one of those foods that will always attract attention, initially because of its large size, attractive shape, and its vibrant orange color. They are also one of the most representative elements of autumn, they announce the arrival of the end of the year and the cold season, they are a staple of the celebration of Halloween and Thanksgiving. Undoubtedly a warm ingredient for unforgettable recipes full of nutrients and textures.
The truth is that it is a very complete and nutrient-rich food to which due justice has not been done, the reality is that it is a food with great medicinal power that is worth talking about.
Pumpkins belong to the Cucurbitaceae family and are native to North America, they have the genius of being a species of which there are many varieties of sizes, colors, and weights, commercial variants ranging from 2 to 8 kg. Beyond its delicious flavor and multiple culinary uses, squash provides impressive health benefits.
It is very nutritious, especially rich in vitamin A
One of the greatest wonders of pumpkin is due to its extraordinary content of essential nutrients. Its vitamin richness is particularly striking, especially in beta-carotene or provitamin A, it also stands out for its great contribution in important antioxidant vitamins such as C and E, B vitamins and folic acid. Another of its qualities is due to its high content of lycopene and mineral wealth in iron, phosphorus, potassium, magnesium, and zinc.
Powerful in antioxidants reduce the risk of chronic diseases
The metabolic process of the body is responsible for the production of free radicals, however, when they are found excessively in the body they generate "oxidative stress" and it is a condition that is associated with a significant deterioration in health and the appearance of diseases. The antioxidants that pumpkin contains, such as alpha-carotene, beta-carotene, and beta-cryptoxanthin, have the peculiarity of neutralizing free radicals and preventing damage to cells.
Strengthens the immune system
Pumpkin's richness in nutrients, such as vitamins, minerals, and antioxidants, makes it a great ally to stimulate the immune system. Being rich in beta-carotene (which is converted to vitamin A), it is a substance that is related to benefits to increase immunity and fight infections.
Healthy and low in calories
Pumpkin is considered one of the most nutrient-dense foods, this aspect is complemented positively with its rich composition in water (about 94%) and is, therefore, a considerably low-calorie vegetable. Integrating it as part of eating plans to lose weight is ideal since it is satiating, rich in fiber, and a great help to control appetite.
Pumpkin medicinal soup recipe:
Wonderful healing pumpkin soup is creamy, satiating, warm, and healthy.
Ingredients:
2 medium pieces of pumpkin
1 tablespoon of olive oil
2 medium shallots (finely chopped)
3 garlic cloves (minced)
2 cups vegetable broth (preferably natural)
1 cup canned light coconut milk (you can also use some vegetable milk you have at home)
2 tablespoons maple syrup, agave nectar, or raw honey
1/4 teaspoon sea salt, black pepper, cinnamon, and nutmeg
For the kale and sesame topping (optional)
1 cup chopped kale
1 large garlic clove (minced)
2 tablespoons raw sesame seeds
1 tablespoon of olive oil
1 pinch of salt
Step by Step:
Preheat the oven to 176 ºC and line a baking tray with aluminum foil.
With a sharp knife, cut the top of the pumpkins and cut them into halves. With the help of a sharp spoon to scrape all the seeds and fibers that you find. With the help of a brush, varnish the pumpkins with olive oil and arrange them upside down on the baking sheet.
Bake for 45-50 minutes or until a fork easily pierces the skin.
Remove from oven and allow to cool for 10 minutes. Proceed to remove the skin and reserve.
In a large saucepan over medium heat, add the olive oil, garlic, and finely chopped shallots. Cook for 3 minutes until lightly browned.
Add the remaining ingredients: vegetable broth, coconut milk, maple syrup, spices including pumpkin, and cook over very low heat (about 10 minutes).
When the ingredients are well cooked, transfer to the blender glass (can be immersion or normal) and process until obtaining a smooth and smooth liquid.
Return the soup to the saucepan and cook over very low heat for 10 more minutes. Rectify seasoning.
For the kale and sesame topping: In a small skillet over medium heat, add the sesame seeds and allow them to roast very lightly for 2-3 minutes. Add olive oil and garlic, cook for 2 more minutes.
Add the kale, a touch of salt, mix well and steam. Cook for a few more minutes until the kale is soft and then add the toasted sesame seeds.
Serve the soup very hot and accompany with the topping. You can also add a tablespoon of sour cream.