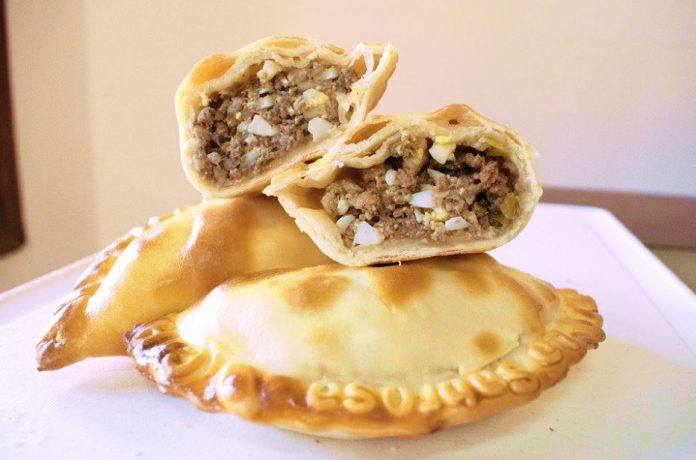 Ingredients for 15 units
For the filling
200 g chicken breast, diced
1 tablespoon of yellow pepper paste
1 tablespoon of oil
1 tablespoon of grated onion
½ garlic, crushed
1 slice of old bread, grated
1 tablespoon Parmesan cheese, grated
1 tablespoon walnuts, chopped
½ cup evaporated milk
Water or chicken broth
For the mass
2 cups flour
100 g of butter
1 teaspoon salt
1 yolk
⅓ cup of water approximately
1 egg (to beat)
Preparation
1. For the filling, in a saucepan heat the oil and fry the onion, garlic, and chicken. Add the evaporated milk, the chili paste, and the bread. Add chicken stock if necessary, it should be a thick mixture, but not dry.
2. Cook for 7 to 10 minutes. Add the walnuts and Parmesan cheese. Stir well over low heat until all the ingredients are well incorporated. Let cool completely and refrigerate for a couple of hours before putting the empanadas together.
3. For the dough, sift the flour and in the center place the butter at room temperature, the yolk, and the salt. Incorporate the water little by little, kneading until you achieve a homogeneous and smooth dough. Let stand 20 minutes covered with a damp cloth.
4. Roll out the dough on a counter until it is 3 millimeters. Cut 10-centimeter circles. For the assembly: lightly beat the egg with 1 tablespoon of water. Reserve.
5. Fill the empanadas with a tablespoon of the mixture. Seal the edges with a little lightly beaten egg, press well, and brush the surface. Arrange the empanadas on a buttered tin and bake at 180 ° C for 20 minutes or until golden.