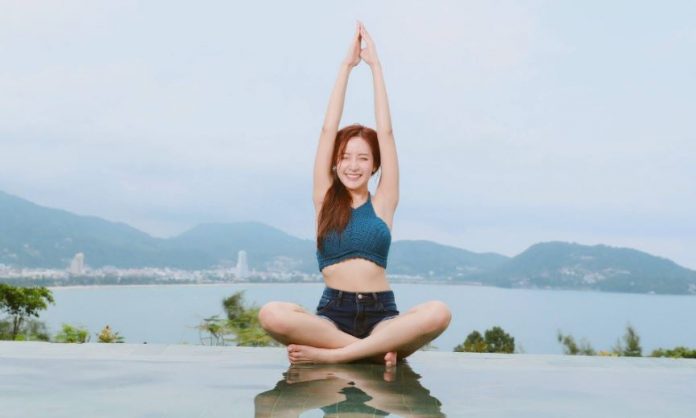 yoga also practiced in water. But while waiting for summer, the pool and the ocean, you can start yoga… in your bath.
It is practical, easy, and proposed by Charlie Girard. yoga teacher and author of "My notebook my yoga rituals" published by Solar editions.
Yoga is good for the body, mind, and spirit. And the bath is conducive to relaxation and the relaxation of tensions. So take a little yoga, dip it in your bathtub and discover aqua yoga, a 100% wellness recipe. "The yoga postures performed in the bathing exercise the whole body and the hot water relaxes the muscles. We feel more comfortable, more flexible, and we can free ourselves from the small accumulated tensions.
Then, you can simply enjoy your bath, by relaxing or meditating, "explains Charline Girardel, yoga teacher and wellness coach, who publishes" My notebook my yoga rituals "(Solar editions), a fun and accessible book, stuffed with good ideas like this.
While you are already addicted to yoga or just the kind of bored in the bath, discover 4 yoga postures to perform in your bathtub.
CRAB CLIP, FOR STRETCHING THE BACK OF THE LEGS AND BACK
To achieve the posture The crab claw, sit in your bathtub, stretch your legs in front of you and keep your back straight. Take a breath and then, when you breathe out, lean over your legs, hug your legs and relax your neck. Then get started in 3 breaths (for that, we avoid having your head's underwater).
RED FISH, TO RELIEVE TENSIONS IN THE NECK AND SHOULDERS
Still in a seated position with your legs stretched out in front of you, place your hands flat behind you, and extend your arms. Straighten the bust well, a bit as if your eyes were trying to hang the ceiling. Inhale and then, at the expiration, tilt your head further back to stretch well.
THE SOAP BUBBLE, TO RELAX THE LOWER BACK TENSIONS
Lie down in your bath then form a pretty soap bubble (or a ball let's say) by bringing your knees against your chest. Circle your legs in your arms and take a few breaths. Super pleasant and rejuvenating.
THE TOUCH-CAST, TO RELAX AND CONCLUDE
For this position, stand cross-legged (across the width of the bathtub, otherwise it will not really pass). Place your hands on the edge of the tub. Take a breath and then tilt your chest and head forward, until you rest your forehead on the edge of the tub. Take advantage of this moment to view the exercises that you have just performed and release the last tensions. Afterward, you can paddle quietly.