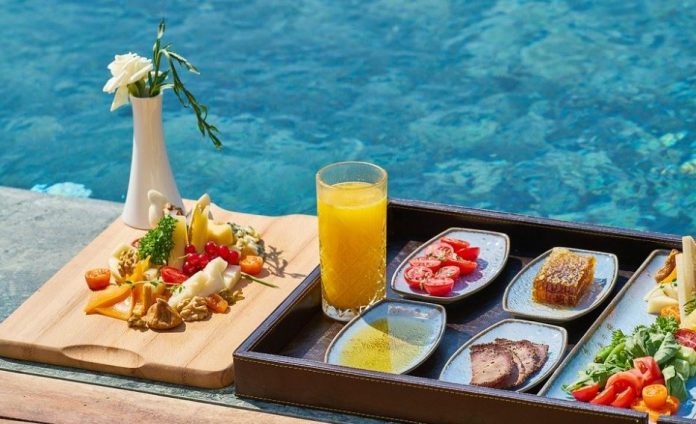 The Okinawa regime is named after an archipelago in Japan known for the longevity of its people.
On this small island, where the number of centenarians is the largest in the world, the prevalence of breast, colon, and prostate cancer is also up to five times lower than in Western countries.
The food and the way of life of the inhabitants are naturally there for a lot. Here is an overview of this famous diet in the country where we do not age … or almost!
Principles of the Okinawa diet
The Okinawa diet is based on a varied, low-calorie, and semi-vegetarian diet.
Here are the 12 main principles of the diet:
1. Never eat until you are completely full, but until you feel 80% satisfied. It is about the principle of hara hachi bun me which can translate literally in French by "the rule of the belly at 80%"
2. Favor low-calorie foods rich in vitamins and minerals such as fish, algae, and cereals
3. Consume 7 servings of fruits and vegetables per day
4. Eat 7 servings of whole grains and/or legumes + 2 soy meals each day.
5. Eat fish at least 3 times a week
6. Limit the consumption of other products from the animal kingdom (meat, dairy products)
7. Season meals with lots of spices, herbs, and seaweed
8. Add little sugar, salt, and fat
9. Limit alcohol consumption
10. Choose to cook on low heat or steam
11. Combine raw and cooked foods
12. Drink at least 1.5 liters of water + at least 2 cups of green tea per day
How to follow the Okinawa diet?
Following the Okinawa, the diet is opting for a healthy diet, low in fat in which plant-based foods will be the majority. Foods with low energy density, rich in vitamins, minerals, and antioxidants are to be preferred. So, to follow the Okinawa diet in the Western way, here are the foods to favor:
cereals and starchy foods: prefer whole grains but also rice, pasta, semolina, sweet corn, sweet potato, and potatoes.
vegetables: all and in particular green vegetables and vegetables rich in water (tomato, cucumber, etc.)
fruits: favor citrus and red fruits for their richness in antioxidants. Moderate the consumption of dried fruits (apricots, grapes, figs, dates, etc.), and oleaginous fruits (olives, coconut, nuts, hazelnuts, almonds, peanuts…).
fish and seafood (at least 3 times a week): preferably lean fish, shellfish, crustaceans, and fresh seaweed
soy derivatives: tofu, soy milk
cheeses, and desserts: fruit salad, homemade compote, plain yogurt, very fresh cheese
water, and green tea: consume as much as you want
Among the products of animal origin – to consume occasionally and in small quantities – we will preferably choose lean meats, skinless poultry, and eggs.
In terms of preparation, if food should be eaten as fresh as possible, cooking (or reheating) in the microwave and barbecue are strongly advised against keeping all the benefits of each food.
Finally, it is important to note that diet is not the only factor behind the secret of longevity of the inhabitants of Okinawa: their very positive outlook on the world and life coupled with regular physical activity and moderate also have a lot to do with it!
Typical Okinawa Diet Menu
Breakfast
Traditional version: Miso soup, seaweed, and tofu, rice, green tea
1 (savory): Rye bread, cereal bread or wholemeal bread, very fresh cheese (cottage type or fresh sheep, cow or goat cheese), fruit (preferably citrus or red fruit), green tea
2: soy milk muesli, fruit (preferably citrus or red fruit), green tea
3: milkshake (seasonal fruit + mixed soy milk), 2 rice cakes, green tea
4 (savory): Rye bread, cereal bread or wholemeal bread, eggs (scrambled, fried, boiled or omelette), fruit (preferably citrus or red fruits), green tea
Lunch
Traditional version: Seaweed salad and cucumber salad, grilled eggplant, rice, eel kebab, papaya, green tea
1: Tomato and cream cheese salad, whole rice salad, corn, tofu, cucumber, tomato, garlic, half mango, green tea
2: Tagliatelle of zucchini with sesame seeds, spaghetti with garlic and basil, fish in foil, fruit salad, green tea
3: Cucumber soup with mint, chicken cutlet with lemon and thyme, sweet potato puree, broccoli, green tea
Having dinner
Traditional version: Rice with red beans and guava, pineapple, green tea
1: Spinach salad, fried chicken noodles, green tea
2: Green vegetable soup, 4 sushi with tuna or salmon, coleslaw, ½ grapefruit, green tea
3: Cucumber salad, shrimp with lemon sautéed in garlic and parsley, wheat and peppers, seasonal fruit salad, green tea
Optional snack:
Seasonal fruit (preferably citrus or red fruit) and/or soy yogurt or soy vegetable drink and/or dark chocolate
The benefits of the Okinawa diet
The strength of the Okinawa diet lies in its nutritional quality: 100% natural products, fresh, seasonal, raw, or undercooked to preserve vitamins, minerals, and antioxidants.
In practice, there is no need to be an ace of the stoves because everything lies in the choice of ingredients and their cooking methods!
Perfectly balanced and varied, the Okinawa diet emphasizes plant products and is therefore particularly rich in fiber. It provides a significant feeling of satiety allowing you to lose weight in the long term without any feeling of hunger. The Okinawa diet is not a method of losing weight in just a few weeks: it is a food mode and a true philosophy of life that is part of everyday life.
The disadvantages of the Okinawa diet
If this diet is suitable for most people, some precautions should be taken:
• Pregnant women or menstruating women who have heavy periods should make sure they eat iron-rich foods to cover their needs (and those of the fetus) to avoid anemia.
• in the event of hypothyroidism or hyperthyroidism, the consumption of algae is not recommended.
As the consumption of dairy products is limited within the framework of the Okinawa diet, it's important to ensure that the body's needs for calcium are satisfied by consuming in particular green leafy vegetables (watercress, spinach, fennel, chard, etc.). , parsley, broccoli but also almonds and nuts (in moderation) as well as water-rich in calcium. Vegetable dairy products such as soy yogurts and vegetable soy beverages should be enriched with calcium.
The dietitian's opinion on the Okinawa diet
Beyond the diet, the Okinawa program is a real art of living with a propensity to stay in motion, a very positive way of thinking, and powerful tools for stress management. It is a wellness program in the broadest sense that allows long-term weight loss.
This diet, accessible to all, is a diet that could be described as natural, ecological, and anti-crisis. These themes are very much in tune with the times and invite deep questions about one's (over) individual food consumption and a healthier lifestyle in the long term. It's also one of the richest diets of vitamins, minerals, antioxidants, fiber, and Omega-3 and this is probably one of the secrets of Okinawan centenarians!